Dear Members,
Those of you who were able to join us, either in person on online, for our recent panel discussion "The Future of the Museum: the Public" know how exciting it was to hear three leading art museum directors from across the country speak. Our in-house and virtual audiences had a rare opportunity to ask these distinguished guests direct questions about their plans, wealth of experience, and hopes for generations of museum goers to come.
This was an important moment in Athenæum history, one that brought our historic commitment to fresh ideas and civic engagement to a new, enormously expanded audience. On this night, our virtual doors were open not just to our members and guests at 10½ Beacon but to anyone, anywhere in the world, who wanted to be part of the discussion via the Internet.
As our incomparable moderator, Joseph Leo Koerner, Thomas Professor of the History of Art and Architecture at Harvard, noted during the proceedings, what would our founders have made of all this?
If you don't already have tickets, please do join us via our live stream for the next two panels (February 10 and 24). You will be able follow the discussion and submit your own questions to the panel, along with the audience at 10½ Beacon. You can link up to the live stream through our website, www.bostonathenaeum.org.
Please also take note of two special concerts this month. On February 12, we will hear Trio Cleonice, three vibrant young performers from New England Conservatory who clearly love life as much as the glorious music they perform. On February 19, legendary pianist Frank Glazer, who made his New York debut in 1936 at the age of 21, returns for a special 99th birthday concert celebration (clearly, a passion for music is good for your health). There will be Bach, Mozart, Beethoven, Ravel, Chopin, and all the birthday cake you can eat.
Deborah Hill Bornheimer
President, Board of Trustees
Credit for image above: Fifth Floor Terrace (Anne Pelikan, 2008).

Credit for image below: "From the bequest of Alexander W. Williams : 1909-1983 : A proprietor and Trustee of the Boston Athenaeum." Created by Michael McCurdy. (Penmaen Press, 1984).
Elevator Renovation Starts March 24, 2014
The Athenӕum's effort to modernize and improve service in its 100-year-old elevator starts soon, on Monday, March 24, 2014. This necessary renovation will take an estimated twenty weeks or five months.
The Athenӕum is planning to continue offering, to the extent possible, all services and events during the five-month period this elevator will be unavailable.
The elevator that runs between the sub-basement and second floor will remain in service.
The Art Department in the basement will become a quiet reading room for those unwilling or unable to walk the stairs to the fifth floor.
Laptops will be allowed in the Albert Gordon Newspaper Reading Room.
Those unable to walk to the stacks on the third, fourth, and fifth floors will have their books pulled and held for them at Circulation.
Mary Warnement
William D. Hacker Head of Reader Services
Credit for image above: Otis Elevator Company, advertisement, Boston Directory (1914).
A Study Collection of Nineteenth-Century Boston Photographers
In 2012, the Prints & Photographs Department acquired an important collection of nineteenth-century photographs. A Study Collection of Nineteenth-Century Boston Photographers was compiled and donated to the Athenaeum by member Ron Polito, a long-time member of the Photographic Historical Society of New England and a retired professor of film at the University of Massachusetts, Boston. The coll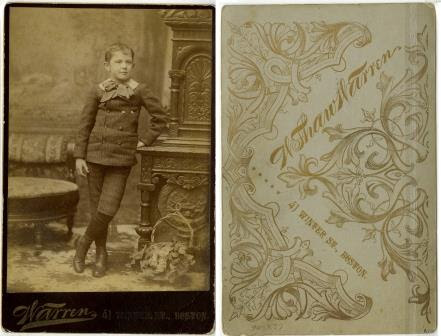 ection totals approximately 1,650 photographs and is primarily comprised of albumen prints mounted on carte-de-visite and cabinet cardstocks. The collection features nearly a hundred different photographic firms in Boston and will prove an extremely useful resource to contemporary and future researchers seeking to understand the growth and development of early New England photography. In acquiring this collection, the Athenaeum continues its mission to record the aesthetic and commercial production of Boston photographers.
Shortly after the new medium of photography was introduced to America in 1839, Boston quickly became a leading center of photographic innovation. Many aspiring photographers attempted to make a living at the competitive profession. This collection documents the dynamic nature of the photographic business in nineteenth-century Boston by providing examples of photographers' partnerships and locations. Many firms did not survive long, and it was relatively common for nineteenth-century photographic firms to last just a few years before dissolving or changing partnerships. This collection documents some of those changes, allowing researchers to observe the evolution of the industry in Boston.
A Study Collection of Nineteenth-Century Boston Photographers also provides valuable information concerning important photographic patents, Victorian fashion, studio furniture and photographers' advertisements. Two finding aids for the collection, separated by medium, have been created and are available online accessible through the catalog record. After processing the collection, I wrote an article detailing some of the highlights. The article was published in 2013 in The New England Journal of Photographic History and is titled "Executed in the Highest Style of the Art: A Study Collection of Nineteenth-Century Boston Photographers."
Dan Ness
Special Collections Assistant
Credit for image above: William Shaw Warren, (fl. 1864-1902), [Young boy leaning on a mantle], between 1877 and 1886. Cabinet card from: A Study Collection of Nineteenth-Century Boston Photographers. Boston Athenaeum; Gift of Ron Polito.
Trollope Discussion Group
Jane Juska, author of A Round-Heeled Woman, placed a personal ad in the New York Review of Books:
"Before I turn 67, next March, I would like to have a lot of sex with a man I like. If you want to talk first, Trollope works for me."
Trollope was loved by Alec Guinness, who never travelled without a volume, John Kenneth Galbraith, Sue Grafton, Dominic Dune, Edward Gorey, Graham Greene, and Robert Caro, who said that Trollope is his favorite author.
After about a year's hiatus, the Trollope Discussion Group will meet to discuss The Warden on Tuesday, March 4, 2014 at 6:00 p.m. The reading list for the rest of this year will be determined in March, along with whether other Victorian novels should be read from time to time for comparison. If you have any comments or suggestions about the group, please contact Bill Pope atwillardpope@mac.com.
Reader Services
Credit for image above: Cover of Anthony Trollope, The Kellys and the O'Kellys. (New York, Lane, 1906).
Looking for (at) Mr. Alcott (Alcock)
One of the great pleasures of the Boston Athenæum is its location. Not only is its historic 1849 building less than a block from two of this country's greatest artistic masterpieces (Charles Bulfinch's Massachusetts State House and Augustus Saint-Gaudens's Shaw Memorial), but the building itself abuts the ancient and picturesque Granary Burying Ground. This lucky location guarantees views that, no matter the weather or season, enhance the serenity, beauty, and historical ambience that one feels throughout the institution: the views from our windows are, in a way, works of art that join the masterpieces of painting and sculpture that can be seen throughout the interior of 10½ Beacon Street.
One of the most pleasant and intimate of these views can be had from the room that is now the Athenæum's first-floor Membership Office. It is one of several small, oddly-shaped spaces made possible by the irregular shape of the lot on which the entire building stands. A rarely seen but major American painting from the Athenæum's collection that happens to make direct reference to the view from this room has now been hung in the space. This is N. C. Wyeth's Mr. Alcott in the Granary Burying Ground in Boston, painted in 1936 and acquired by the Athenæum from the artist's widow, Carolyn (Bockius) Wyeth, in the early 1950s.
Newell Convers Wyeth (1882-1945) was a native of Needham, Massachusetts, and had his earliest training as an illustrator in Boston. In 1902, he enrolled in Howard Pyle's school of illustration in Wilmington, Delaware, and quickly became Pyle's star pupil. The following year, one of Wyeth's illustrations appeared on the cover of the SaturdayEvening Post. This was the beginning of a national fame that was assured when, in 1911, Wyeth was commissioned to illustrate Robert Louis Stevenson's Treasure Island, the inaugural publication in the Scribner Illustrated Classics series. By the 1930s, Wyeth was one of this country's most popular illustrators and, as such, was a natural choice to illustrate a new, popular edition of Henry David Thoreau's journals that Houghton Mifflin was publishing under the titleMen of Concord. Francis H. Allen, who selected and edited the text, wrote of the wisdom in having Wyeth illustrate the work. "Besides being a New-Englander by birth and inheritance," Allen wrote, "N.C. Wyeth is a lifelong admirer of Thoreau, whose spirit has become a part of him."
Wyeth produced eleven paintings for photographic reproduction in the book, as well as a number of line drawings to be used with section headings. The Athenæum's painting, which is reproduced as Plate V inMen of Concord, illustrates a passage in the journal in which Thoreau seems to sneer at the educator and preacher Bronson Alcott for having recently acquired an obsession with family history. "Alcott, the spiritual philosopher," Thoreau wrote in August 1852, "is, and has been for some months, devoted to the study of his own genealogy,-he whom only the genealogy of humanity, the descent of man from God, should concern!" Having discovered that the original family name was "Alcock," Thoreau reported, Alcott had been traveling all over New England in search of any and all records that might mention the name. "He who wrote of Human Culture," Thoreau carried on, "he who conducted the Conversations on the Gospels, he who discoursed of Sleep, Health, Worship, Friendship, etc., last winter, now reading the wills and epitaphs of the Alcocks with the zeal of a professed antiquarian and genealogist!" The great man of Concord now believed, Thoreau wrote, that every epitaph in "every yard" should be copied and printed verbatim et literatim,with a perfect index added, so that persons engaged in such pursuits as himself might be absolutely sure, when they turned to the name Alcock, for instance, to find it if it was there, and not have to look over the whole yard." Thus, Alcott has "visited the tomb of Dr. John Alcock in the Granary Burying Ground, read, and copied it." (Francis H. Allen, ed., Men of Concord, 79-80).
Whatever Bronson Alcott's relationship may have been to the John Alcock buried in the Granary, the latter's marker is now gone from the cemetery. The location that Wyeth chose for his painting, however, can be pinpointed because he had included in the foreground the gravestone of one Ruth Carter, which has survived and is very well preserved. The stone is, in fact, a masterwork of American gravestone carving and one can understand why Wyeth gave it a place of prominence in his composition. Here, elegantly posed and carved skeletons, obvious allegories engaged in the dance of death, flank the incised inscription that summarizes Mrs. Carter's brief life. Above, the stone is rounded and decorated with contrasting symbols of life and death in the forms of delicate, spreading vines and an urn. In keeping with his own artistic sensibilities and experiences, Wyeth has not only foregrounded this stone but has rendered it in exquisite detail and with careful accuracy. It is easy enough to imagine Wyeth wandering the cemetery as Alcott had done, looking for John Alcock's grave, and coming across the aesthetic and spiritual bonus that was Mrs. Carter's. Undoubtedly, Wyeth was intrigued by the artistry and technical expertise with which the stone had been carved and the thoughtful manner in which the anonymous stone carver had combined images and words to make his point-not unlike what Wyeth himself did in the books that he illustrated.
David B. Dearinger
Susan Morse Hilles Curator of Paintings & Sculpture and
Director of Exhibitions
Credit for image above: Membership Office with view and painting (Photography by Sara Levine, 2014): Newell Convers Wyeth (1882-1945), Mr. Alcott in the Granary Burying Ground in Boston, [1936], Oil on gesso on hardboard, 38 7/8 x 27 15/16 in. (98.8 x 71 cm), Inscribed lower right: N.C. WYETH, Acquired from Mrs. N. C. Wyeth, 1952.